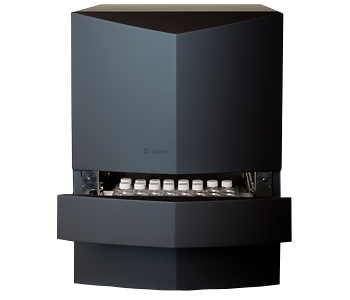 INTRODUCING THE HIDEX
300

SL
Dimensions

The 300 SL is a revolutionary instrument with a small footprint and can easilly be integrated into small laboratories of 52cm width, 63cm depth and 68cm height.
Even with its 4-pl 70mm detector sheild the gross weight is below 130 kg. The compact design and low weight of the instrument makes it a truly transportble system.
.
.

Optional features

The 300SL boasts such optional features as alpha/beta seperation, temperature control to stabilize measurement conditions and external standard for traditional quench determination.
NEW TECHNOLOGICAL INNOVATIONS
Unlike any other commercial liquid scintillation counter the Hidex 300SL utilizes three photomultiplier tubes aligned at 120 degrees from each other. These three PMT's enable triple to double coincidence ratio counting-TDCR.

.

Advantages

The greatest advantage of TDCR is the easy and straightforward method of obtaining counting efficiency of the samples without any external or internal standard source of radioactivity.
Three photomultiplier also facillitate Triple Coincidence Counting which is immune for problems created by chemilluminescence. It also reduces background caused by Potassium-40 in glass and is useful for low background counting of isotopes like C-14.