The Nadia Instrument is an automated, microfluidic droplet- based platform for single cell research that encapsulates up to 8 samples, in parallel, in under 20 mins. Over 50,000 single cells can be captured per cartridge in a run. The fully automated Nadia Instrument guides users through all relevant steps of the experiment via an easy-to-use touchscreen interface. The Nadia can be used with customer supplied reagents or Dolomite Bio's scRNA-Seq Reagent Kit
Benefits
Automation: Fully automated sample encapsulation.
Ease of use: Automatic detection of application- specific cartridges, touch screen interface and sample loading guide lights.
Scalability: Processing capability of up to 8 samples in parallel.
Temperature control: Automated sample chilling to maintain transcriptome state.
Single use cartridge: Disposable cartridges with no wetted parts to avoid cross contamination. Truly single cell: Ultra low cell doublet rates due to gentle cell agitation.
Features
3 independent ultra- smooth pressure pumps each u
Sample temperature control from 4°C to 40°C
Independent gentle stirring of beads and cells prior to encapsulation
Easy-to-use integrated touch screen interface
Step-by-step tutorial software
Disposable cartridges prevent cross contamination
Automatic detection of application-specific cartridges
Compatible with Dolomite Bio's scRNA-Seq Reagent Kit or customer supplied reagents
Why use high throughput single cell profiling?
Techniques such as high throughput single cell profiling offer the unique capability
of obtaining qualitative and quantitative transcriptome information from single cells. With this technology, single cells from heterogenous samples, including cultured cells, biopsies, blood and other tissues, can be rapidly profiled for quantification of gene expression and identification of specific cells or cell sub-types.
Nadia technology highlights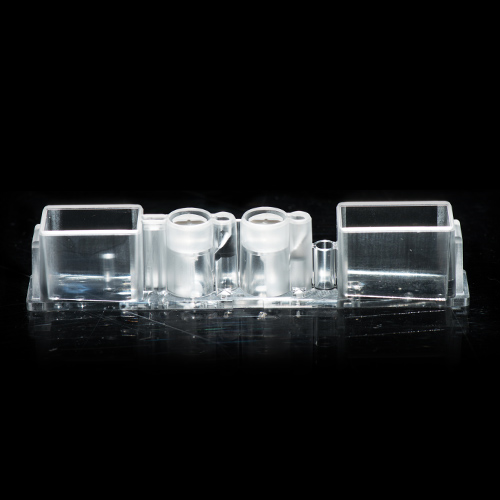 Pressure pumps
Ultra-smooth pressure pumps for monodisperse droplet formation and superior single capture.
Cell stirrer
In-built stirrers for gentle cell agitation to minimize cell doublet formation and blockages.
Bead stirrers
Continuous stirring to ensure singulation and an even distribution of beads throughout the encapsulation process.
Guide lights
Sample loading guidelights and touch screen interface to prevent user errors.
Temperature controller
The in-built temperature controller chills samples to maintain the cell transcription profile and minimize cell doublet formation.
High throughput droplet junction Over 50,000 single cells can be captured per cartridge in a run. Live junction visualization is enabled when using the Nadia Innovate.