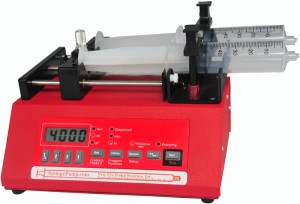 Model : NE-4000
Description:
    Holds 2 Syringes up to 60 cc each, can be different sizes
    (Glass or stainless steel syringes larger than 20mL may require Anti-siphon Modification Kit).
    Infusion rates from 1.459 µL/hr (1 cc syringe) to 7635 ml/hr (60 cc syringe)
    Easy-to-use keypad interface
    Space Saving Chassis: Foot print size of only 5 3/4″ x 8 3/4″
    Won't take up unnecessary space on your laboratory or production bench
    Includes all the advanced functions and programming features of the NE-1000 family
    Disposable, Glass, Stainless Steel Syringes and Plumbing Supplies are sold separately.
Special Application: Continuous Infusion (Push-Pull) and Dual Syringe Pump
Using 2 NE-4000 pumps attached with a cable, one pump will infuse while the other pump refills or have simultaneous infusion.
Features of the NE-4000 Family of Syringe Pumps:
    Fully programmable; automation capable
    Operates stand-alone or from a computer
    Infusion and withdrawal
    Available in Microfluidics (NE-4002X) and OEM (NE-4500) versions
    Set a single pumping rate and/or dispensing volume
    Program up to 41 pumping phases that change pumping rates, set dispensing volumes, insert pauses, control and respond to external signals, sound the buzzer
    Network, control, and monitor up to 100 pumps with one computer
    Worldwide power supplies available
    Motor stall detection
    Dispensing accuracy of +/-1%
    Unlimited lifetime technical support
    Two year warranty
 High pressure notes:
The NE-4000 produces about 15 lbs(7.5 lbs/syringe) of linear force at top speed and about 100 lbs(50 lbs/syringe) at slow speeds. 10 ml/hr is an example of slow speed. The pressure that can be generated is relative to the syringe size. On a 60 ml syringe, this would roughly produce about 30 psi.
NE-4000 Double Syringe Pump
| | | |
| --- | --- | --- |
| Syringe Size | Maximum Rate | Minimum Rate |
| 0.5 µL | 91.83 µL/hr | 0.001 µL/hr |
| 1 mL | 190.4 mL/hr | 1.453 µL/hr |
| 3 mL | 806.1 mL/hr | 6.151 µL/hr |
| 5 mL | 1341 mL/hr | 10.24 µL/hr |
| 10 mL | 2188 mL/hr | 16.7 µL/hr |
| 20 mL | 3479 mL/hr | 26.55 µL/hr |
| 30 mL | 4539 mL/hr | 34.64 µL/hr |
| 60 mL | 7635 mL/hr | 58.3 µL/hr |