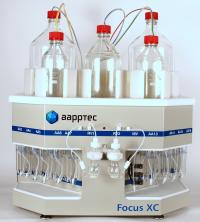 Focus XC Solid Phase Peptide Synthesizer
The Focus XC Series of solid phase peptide synthesizers are compact, easy to use fully automated peptide synthesizers that will increase laboratory productivity. They can synthesize one, two, four or up to six peptides at a time for efficient high throughput synthesis. With 24 amino acid/reagent vessels, Focus synthesizers can be set up and run all day or overnight without additional user intervention. Focus XC peptide instruments are compact and do not require a hood, yet can prepare peptides in a scale range of 0.05 mmol to 5.0 mmol, making them powerful peptide production tools. Focus XC synthesizers are an excellent choice for discovery research, synthetic methods and process development, and basic research and development.
The Focus XC series of peptide instruments are easy to use with features that both novice and experienced peptide chemists will appreciate. All reagent bottles, amino acid vials and reactors are visible and reagent levels can be quickly verified at a glance. The software has standard Boc and Fmoc protocols or users can develop new chemistries and customized protocols. The simple command technology makes Focus XC peptide synthesizers excellent learning tool for beginners, but still have the flexibility for a wide range of chemistry, including synthesis of peptides, organic molecules and DNA.
Delivery/Preactivation
Focus XC peptide synthesizers feature a sophisticated solvent and reagent delivery system that can deliver accurate volumes from solvent/reagent bottles to amino acid vessels or reactors, between amino acid vessels and reactors or from one reactor to another.
Focus XC synthesizers can automatically on demand calculate, measure via the Measuring Vessel, and deliver to each amino acid vial the exact amount of solvent required to prepare a solution of specified concentration. The amino acid solution can either be preactivated within the amino acid vial or a portion of the stock solution can be transferred to the Measuring Vessel for preactivation. After preactivation, the solution is transferred to the Reaction Vessel for coupling to the resin. The contents of one amino acid vessel can be delivered entirely to one reactor or can be divided between several reactors.
Focus XC peptide synthesizers can perform double couplings by transferring the first part of the amino acid solution and saving the rest of the solution for the second coupling. Focus XC peptide instruments can also dispense for double couplings in multiple reactors.
Focus XCi
The Focus XCi is the ideal entry-level peptide instrument where small numbers of peptides are required.  It features one glass reactor with nitrogen bubbling mixing, 16 amino acid/reagent vessels and 6 larger solvent/reagent bottles.  The Focus XCi's affordable price and simple command technology makes it an excellent training instrument for students.
Focus XC
Focus XC peptide synthesizers with 2, 4, or 6 reactors are ideal where a large number of high quality peptides are required in research quantities. Focus XC peptide synthesizers in the standard configuration have 24 amino acid containers. Optional configuration has 36 amino acid vessels.  Core facilities, drug development, biochemical research and antibody production laboratories all will find features that make Focus XC peptide synthesizers valuable production tools.
Focus XC-II DNA/PNA Synthesizer
The Focus XC II is specially designed as a DNA synthesizer or PNA synthesizer (peptide nucleic acid synthesizer). It features two 5 ml reactors, 24 monomer vials and special low volume transfer lines. Having two reactors, Focus XC II can prepare two oligomers simultaneously or utilize only one reactor for a single synthesis.
Focus XC-III Scale-Up Peptide Synthesizer
The Focus XC III peptide instrument is a production scale solid phase peptide synthesizer small enough to fit on a laboratory bench top. Although small in size, it sacrifices nothing in performance. In the standard configuration, the Focus XC III peptide synthesizer has a 1 liter reactor. 500 ml and 2 liter reactors are optional. 4 large capacity amino acid vessels are specially designed for precise metering of amino acid solutions.
The Focus XC III Peptide Synthesizer includes features compliant with cGMP. The operation of the instrument is password secured. Once a synthesis is started, it can not be changed without the password. An on-line log-file generator automatically creates a full step-by-step report of the entire synthesis.
Automatic Reaction Monitoring Option
The Automatic Monitoring option takes the guesswork out of peptide synthesis. The Focus peptide synthesizer automatically proceeds to the next step instead of waiting for a pre-set amount of time. This eliminates wasted time when deprotection reactions are completed rapidly and prevents unwanted side reactions that may occur while the peptide-resin is in contact with the piperidine solution. Focus XC synthesizers with UV Monitoring prepare the highest quality peptides automatically. Even difficult peptides can be prepared in high quality without user intervention. The Focus XC monitors each deprotection step and allows deprotection to go to completion before advancing to the next step. No more failed syntheses due to unexpected slow deprotection.
 Sonication/Heating/Cooling Option
Ultrasound has been shown to accelerate reactions to yield products not obtainable by purely thermal reactions. Sonication disrupts aggregation and accelerates diffusion of reagents into the resin beads thus speeding up coupling reactions, particularly difficult couplings.1(Ngo, et al. J. Org. Chem., Just Accepted Manuscript, DOI: 10.1021/jo3017605) AAPPTec offers an optional patent-pending (worldwide) sonication module for applying ultrasound to the reaction vessels.
Moderate heating during coupling has proven to be very beneficial in difficult couplings. Recently, conventional heating was shown to be as effective as microwaves in peptide synthesis.2 The Focus XC has a heating option that allows the Reaction Vessel to be heated during reactions. Unlike microwave synthesizers that heat at each reaction, the Focus heating module applies heating only during the steps specified by the user thus eliminating unnecessary heating that can damage delicate products. Sonication with heating further accelerates peptide synthesis and produces purer crude peptides.